Visited countries
More of an index for future articles to come rather than just trying to show off; here is a map of the countries where A World to Travel's core team has lived or traveled so far.
What would you like to know about them? Are you planning to travel or live there?
Additionally, here's Inma's updated #Travelstoke World Map by Matador Network. You can give it a try too!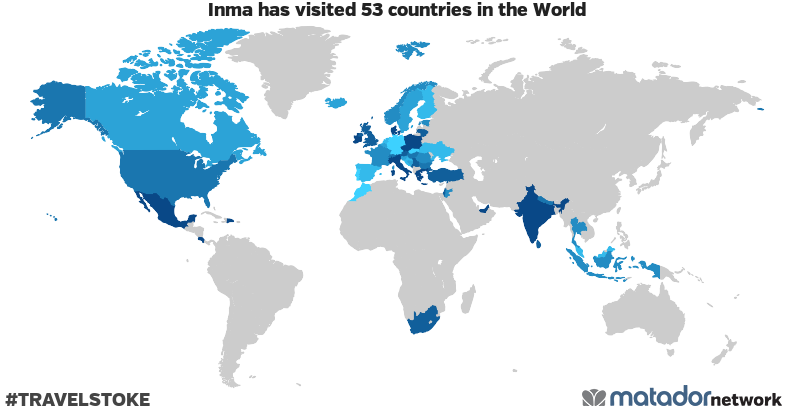 Inma has been to: United Arab Emirates, Austria, Bosnia and Herzegovina, Belgium, Bulgaria, Canada, Switzerland, Costa Rica, Czech Republic, Germany, Denmark, Dominican Republic, Estonia, Spain, Finland, France, United Kingdom, Greece, Croatia, Hungary, Indonesia, Ireland, Israel, India, Iceland, Italy, Jordan, Sri Lanka, Lithuania, Luxembourg, Morocco, Monaco, Montenegro, Mexico, Malaysia, Netherlands, Norway, Nepal, Poland, Palestine, Portugal, Romania, Serbia, Sweden, Singapore, Slovenia, Slovakia, Thailand, Turkey, Ukraine, United States, Vatican, South Africa.
---